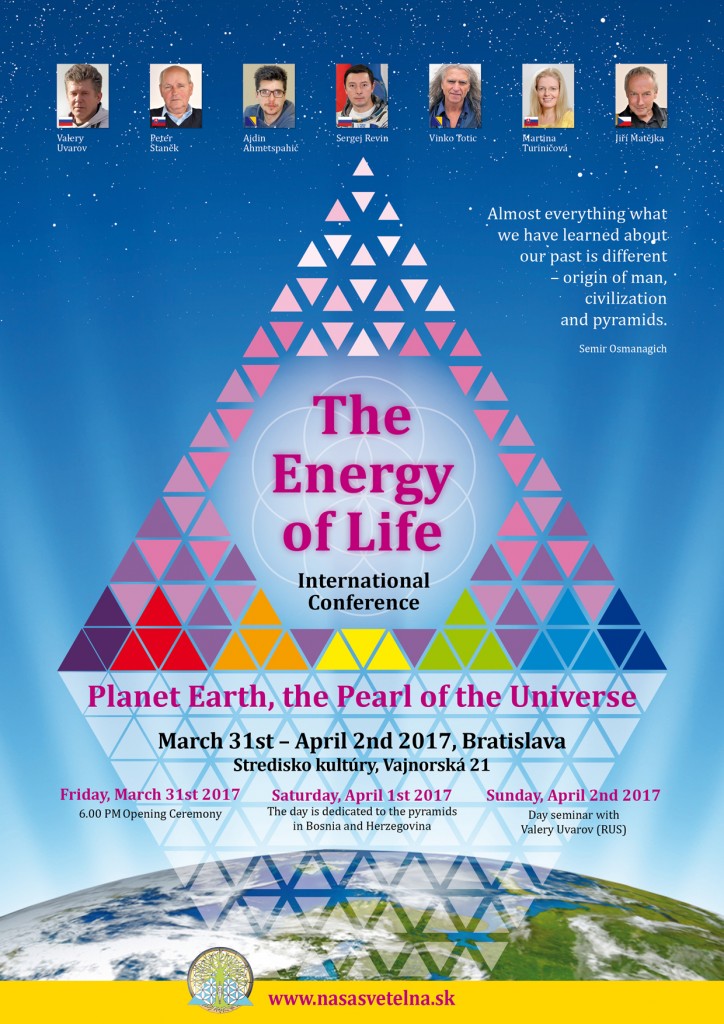 Program
information about speakers
Friday, March 31st 2017
5.00 pm Compulsory Registration (here participants will receive a detailed program and important information)
6.00 pm Opening Ceremony
6:15 pm Information War, with moderator Norbert Lichtner and guests Valery Uvarov (RUS) and professor Peter Staněk (SVK), sequel of successful last year discussion
9.30 pm (cca) Closing
Saturday, April 1st 2017 – day dedicated to the Valley of  Pyramids in Bosnia and Herzegovina.
Throughout the day the presentation of Bosnia and Herzegovina will take place, not only the pyramids in Visoko. You can buy books,  not only of Mr. Osmanagich, DVD – film, water from the tunnels beneath the pyramids, stones from the Valley of Pyramids, t-shirts with logo OZ – sacred geometry, e.t.c.
8.00 am Registration for those who missed it on Friday
9.00 am Lectures:
Ajdin Ahmetspahic will deliver a lecture and the message from Dr Semir Osmanagich, the inventor and leading figure of the project in Visoko
Sergej Revin – Planet Earth through the eyes of an astronaut
Valery Uvarov – (we are waiting for materials)
Jiří Matějka – Our fantastic history
Peter Staněk – Biospheres, technospheres and the society of the future
Martina Turiničová – To Llive Authentically– transformational changes brought about by the energy in the tunnels Ravne, Visoko
9.30 pm Closing ceremony of the Conference
Sunday, April 2nd 2017 – day seminar with Valery Uvarov (RUS)
10.00 am to 5.00 pm with one hour lunch break
Title of the seminar – "Secrets of self-perfection"
How to get into resonance with universal source of energy.
Biologic and energetic cycles of human being.
Proper and effective way to restore the organism's bio-energetic rhythms;
How to effectively clean our body from slags and negative energies.
How to save, collect and accumulate energy for the health and spiritual transformation.
How to calculate individual annual bio-energetic cycle.
How to give birth to strong and healthy child with brilliant mental and spiritual abilities.
Main reason of problems in our life is lack of energy and ignorance of bio-energetic cycles of human being, the Earth and the Universe.
This workshop gives understanding and knowledge how to change quality of life, properly develop your energetic and psychic abilities, correct deviations from heath norm and give birth to the child with brilliant mental and spiritual abilities.
We reserve the right to change the program.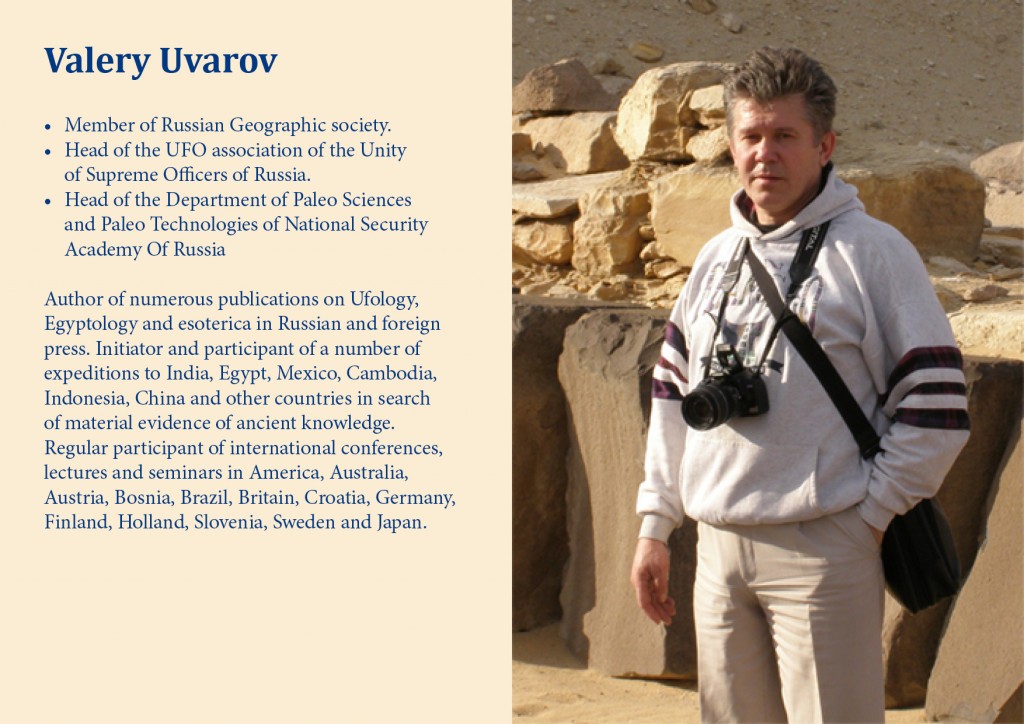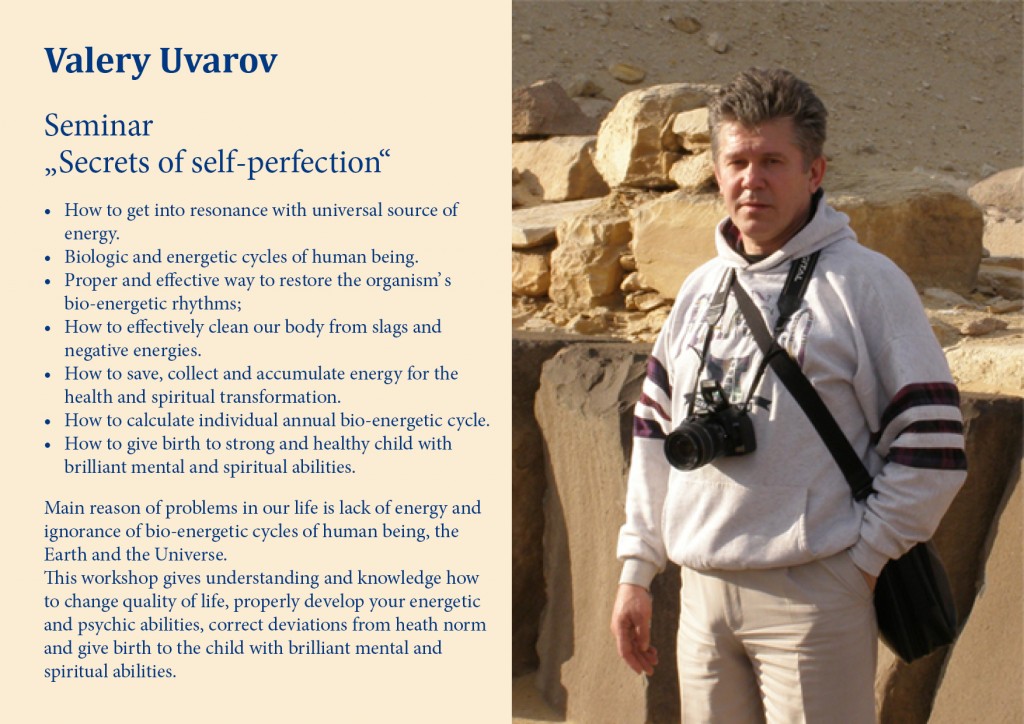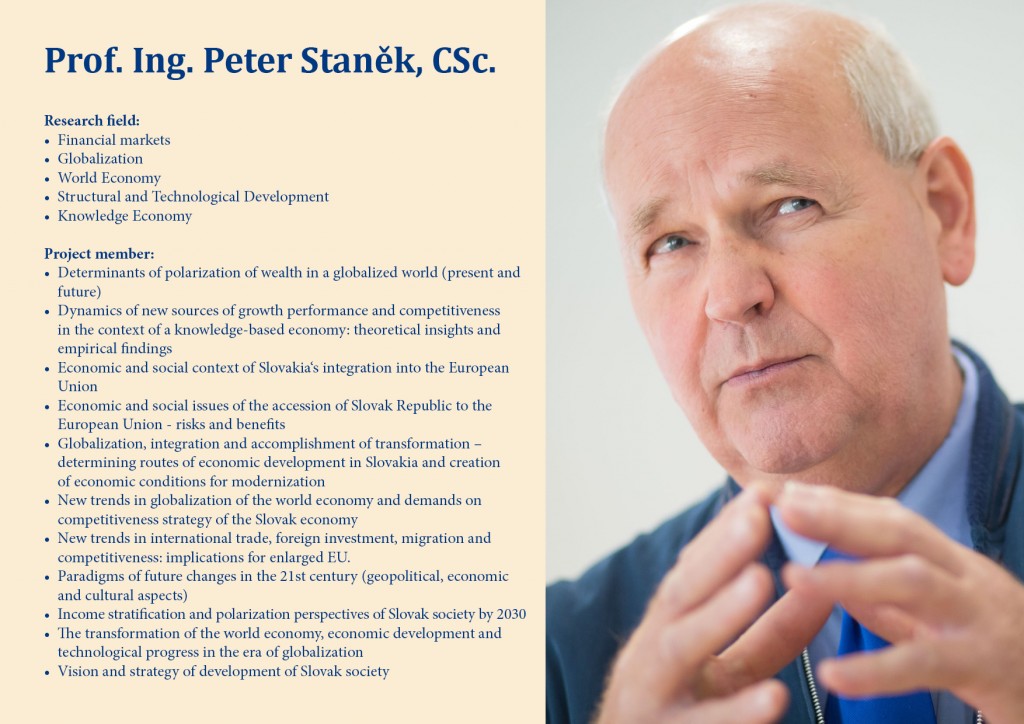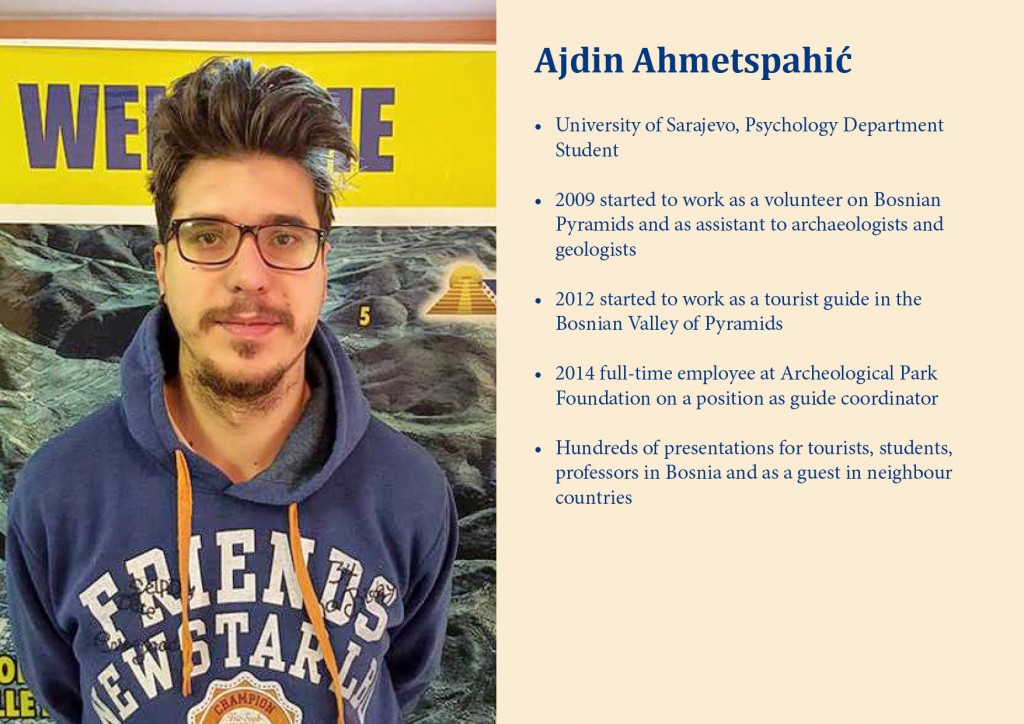 Conference 2016
Of life – international conference about pyramids, pyramidal energies and ancient technologies in the service of humankind
1-3. April 2016 in Bratislava, Slovakia
Language of the conference will be English (with translation to Slovak).
Friday 1/4/2016
6pm registration of participants
7pm opening ceremony
7:20pm lecture: Valery Uvarov – Pyramids and their role in the evolution of civilizations
10pm end
Saturday 02/04 – Day dedicated to the pyramids in Bosnia and Herzegovina
8:30am Registration of participants, presentation and program reviews
9am – 10pm lectures:
Klaus Dona – Artifacts proving existence of extraterrestrial civilizations on Earth
Semir Osmanagich – Valley of pyramids in Visoko
Janez Pelko – Six years of experience with aura-photography in Visoko
Lunch break
Martina Turiničová – Transformation effects of energy in tunnels beneath the pyramids in Ravne
Concert
Sunday 03/04 – Day dedicated to the Slovak and Czech Pyramids
8am – 9:30am solemn ceremony at Devin
10:30am to 6pm lectures:
Martina Turiničová – project Slovakia has a pyramids as well
Hana Sar Blochová – Extincted advanced civilizations
Jaroslav Ruzicka – History written by stone
Lunch break
Valery Uvarov – lectures:
Healing and spiritual energies of the pyramids
Harmonization of inner biological time to control oncological processes
Slowing down of ageing processes
Transformation of sexual energy into cosmic LOVE…
Kids of new generation of psychic and energetic possibilities
*schedule might change
Detailed schedule for download

Tickets:
Three day ticket for 139 €.
Please send the payment to the bank account:
IBAN: SK41 1100 0000 0029 4801 5230
SWIFT: TATRSKBX
Address of the bank: Hodžovo námestie 3, Bratislava, 811 06, Slovakia
Please write your name and surname to the message to recipient.
NOTE – Registration without payment is not valid!
In case of any questions please write to 0905213289@orangemail.sk
For more information about Bosnian pyramids please have look at this video.